Book Online Now
Call Us Today
Our happiness lies in relieving your pain
Want to book Via SMS? Text 0475 522 200
Our happiness lies in relieving your pain
Book Online Now
Zen Wellness Massage
Call Us Today
Want to book Via SMS? Text 0475 522 200
Our Treatments


Remedial Massage
(Qualified Therapists) – Health Rebates Available
Relaxation / Deep Tissue / Sport / Pregnancy / Trigger Point Therapy/ Lymphatic Drainage Massage
NO HEALTH FUND REBATE
Relaxation/ Deep Tissue/Sport/Pregnancy/Feet Reflexology Massage 
Reflexology / Foot Massage 
All prices inclusive of GST
Health Rebates are available in Zen Wellness Massage Mackay by selected qualified massage therapists. Choose to claim on spot or directly through your health fund. Please ensure you inform our therapists on arrival that you intend to claim for a health fund before commencing your massage treatment.
Health Fund rebates are only available for Remedial, Dry needling treatments.
About Us
Zen Wellness Massage was born out of a need to treat the human body through natural remedies. This is why, at Zen Wellness, you will find a range of massage options including Remedial, Deep Tissue, Sports, Relaxation and Pregnancy massage. We also offer alternative treatments such as Trigger Point Therapy, Dry Needling, Lymphatic Drainage and Reflexology.
All of these therapies are used to treat a wide range of ailments, including, sports injuries, muscular pain, migraines and headaches, tendonitis, plantar fasciitis and much more.
At Zen Wellness Massage, we pride ourselves on listening to our clients' needs and are passionate about getting to the root cause of your pain. Our knowledgeable massage therapists have completed hundreds of hours of training so you can be assured they are qualified to treat your condition.
Zen Wellness Massage is a HICAPS approved provider.
Meet the Team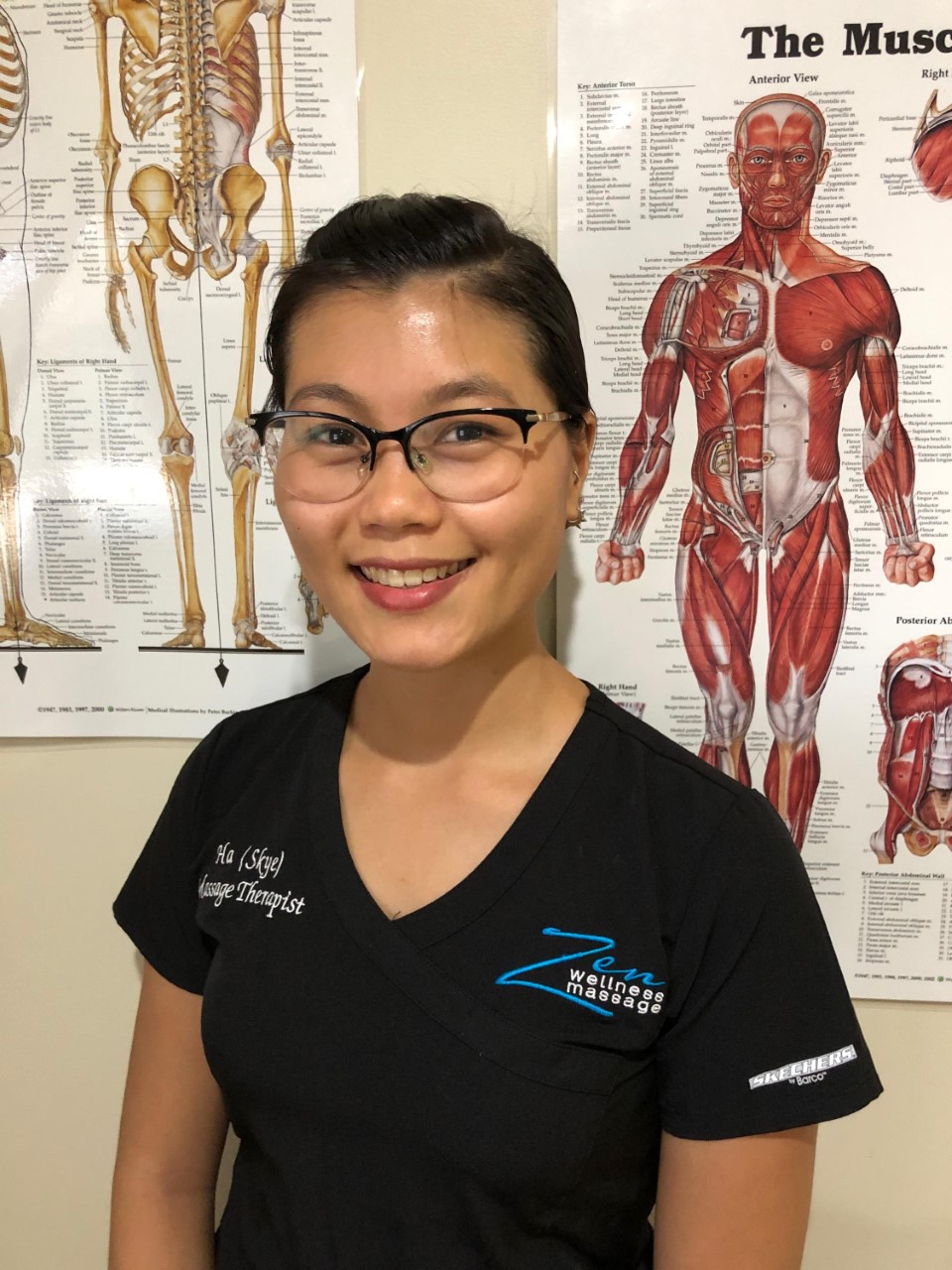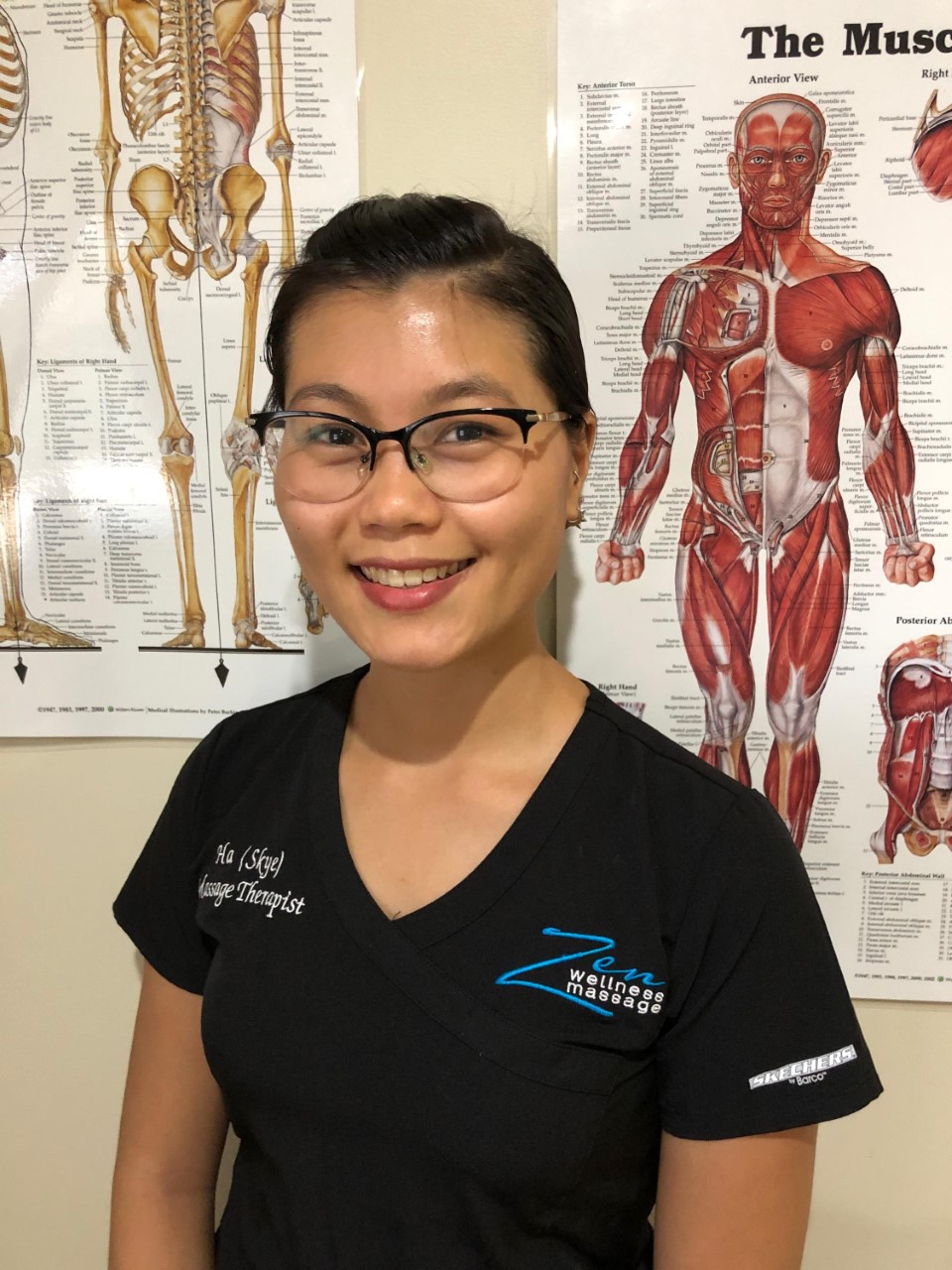 Ha is passionate about helping her clients achieve vitality through the treatment of chronic pain. This is the reason why Ha has put herself through years of training to obtain her Diploma of Remedial Massage, Certificate IV in Massage Therapy, Certificate of Lymphatic Drainage Massage and completed 100 hours of training to obtain her Dry Needling Certificate.
Coming from a family of health care professionals, Ha understands that listening to her clients and interpreting their symptoms is vital in the treatment of clients' pain. However, unlike her family, Ha's preference is to treat through natural remedies as she understands that stress and tension can be triggers for many ailments.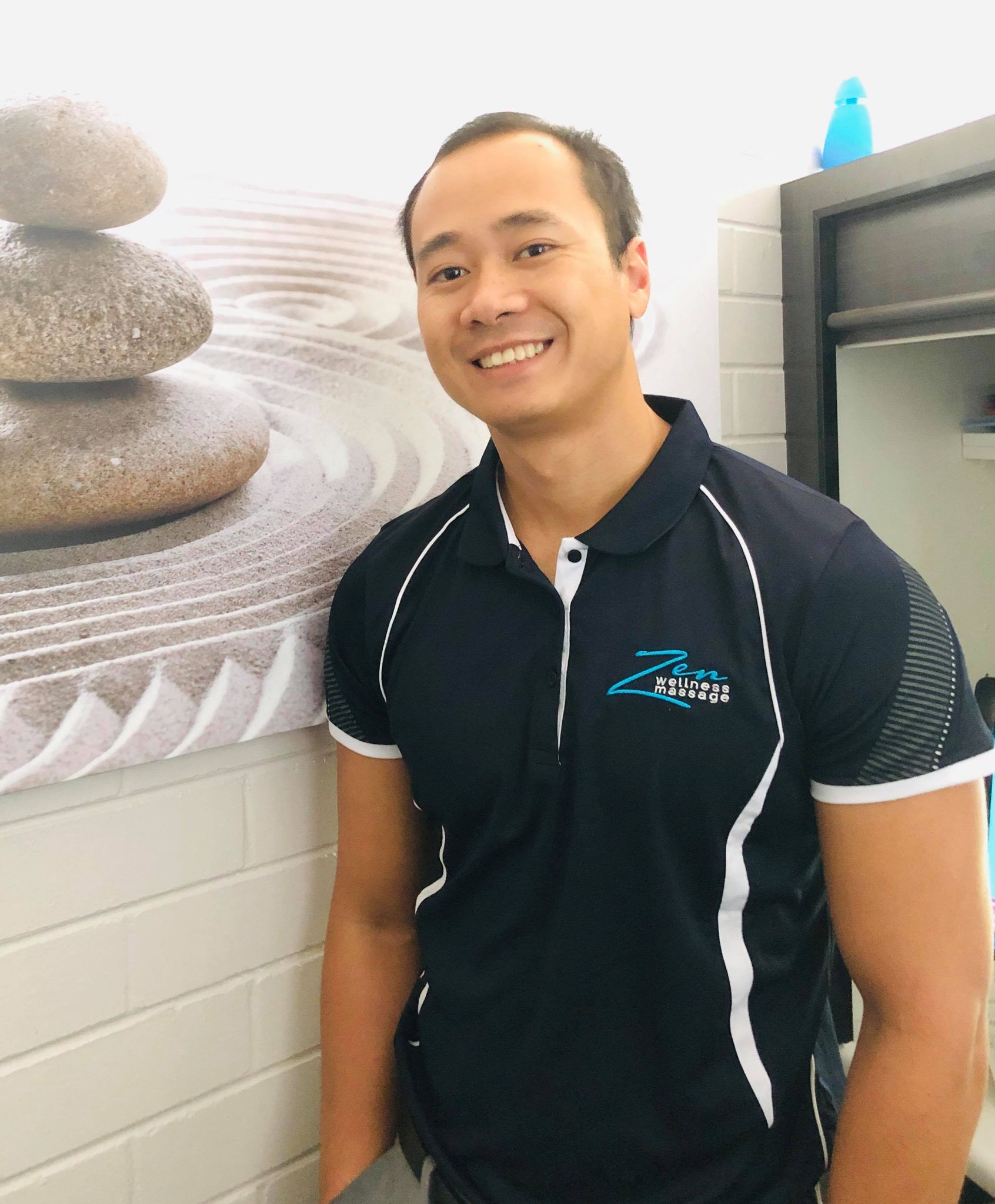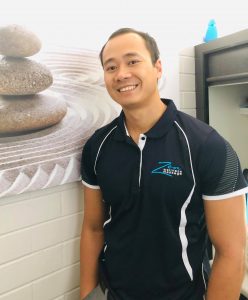 Vu Pham joins the Zen Wellness team after working as a personal trainer for two years. Throughout his time in the industry, Vu learned how massage helps speed up the muscle regeneration process. He also taught himself safe stretching techniques and now combines all of that knowledge to his current role as a massage therapist. Vu is passionate about preventing soft tissue sports injuries. So, while he enjoys seeing clients regularly, he also likes to educate them about the importance of proper stretching so, they don't need to see him for recovery. When not working, Vu dives into self-education so that he can learn more and improve his skills. But when he needs to switch his brain off, he likes to get outdoors and reconnect with nature by fishing or hiking through one of the Mackay Region's gorgeous national parks.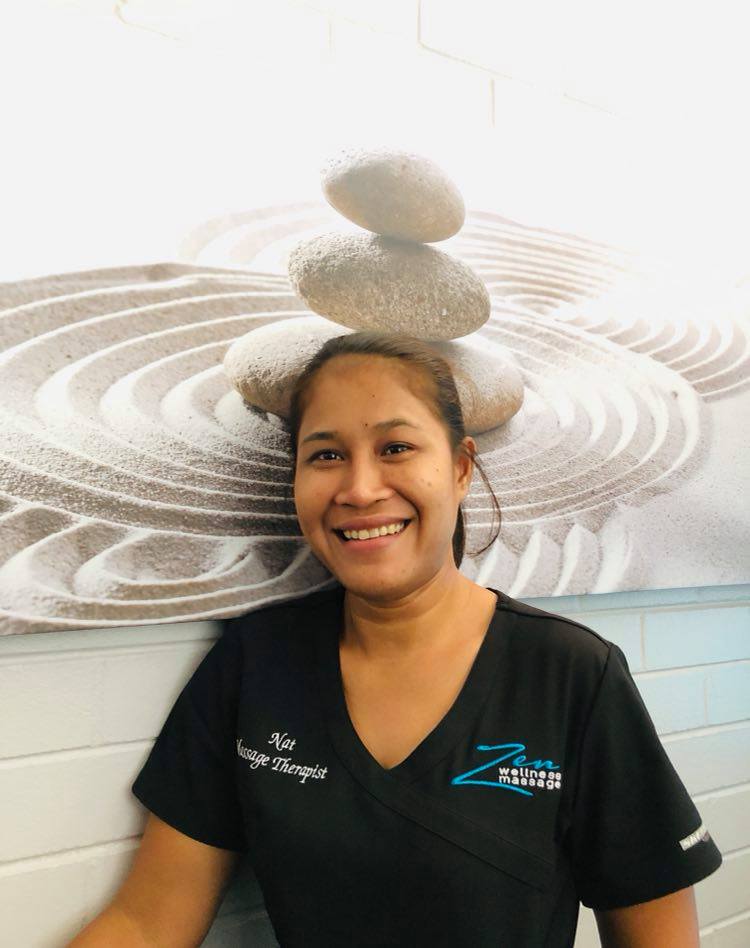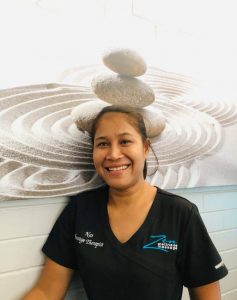 Nat Baird had been practicing as Massage Therapist since 2010. She attended several Massage course in Thailand and successfully completed Thai Traditional Massage, Oil Massage and Aroma Therapy.
Moreover She completed the Remedial Massage at CQ University in Mackay.
What to expect:
Remedial Massage
Trigger Point
Thai traditional Massage
Relaxation Massage
Deep tissue Massage
Pregnancy Massage
Reflexology
Cupping/ Rock tape – Kinesiology

Zen Wellness Massage Treatment
For your convenience, Zen Wellness Massage has an online booking system or bookings can be made via phoning 0748470456
After booking, you will be reminded of the appointment date and time via text and / or email, 24 hours prior to your appointment time.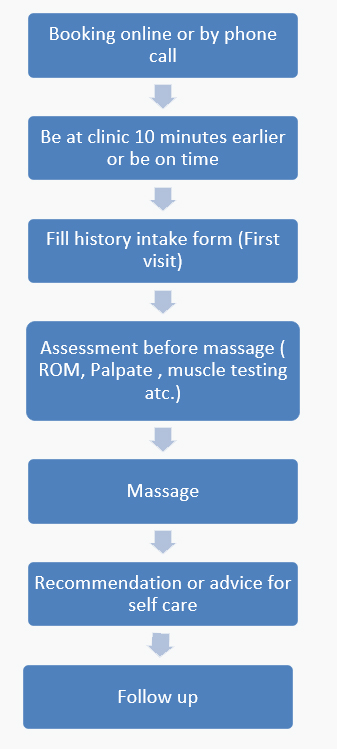 ARRIVAL TO YOUR MASSAGE- Please arrive for your appointment 10 minutes prior to the scheduled starting time. This allows you the time to fill out the appropriate client form (new clients), change and prepare for the service. All massages have a specific time schedule and early arrival allows for a relaxed and unhurried experience.
If late arrival is unavoidable, your service(s) may be shortened in order to keep on schedule. However, the original treatment price will be charged.
Assessment before massage:
Prior to commencing treatment, your Massage Therapist will talk to you about your health history and any problems you are experiencing. Make sure you tell us about any conditions you have or medications you are taking. We will discuss how these may impact your treatment.
After the consultation, the Massage Therapist will instruct you how to lie on the treatment bed. Then the Therapist will leave the room for a short time and will ask if you are ready before entering.
During the treatment: 
All Massage Therapists have their own style and techniques. If the pressure is too light or too firm, you should speak up and ask the Therapist to adjust their pressure. This is your massage and you should feel comfortable during the treatment.
Post treatment:
After the massage, you should drink enough water and avoid forceful movement for 24 hours. We also recommend walking, light yoga or gentle stretching to lengthen the positive effects of your massage.
Follow up:
You may feel a dull and lasting pain for 1–2 days after the massage as your body is still in the process of adjustment. In addition, previous chronic pain will gradually return. To maintain the effectiveness of massage therapy, please continue to seek other massage sessions.
Gift Vouchers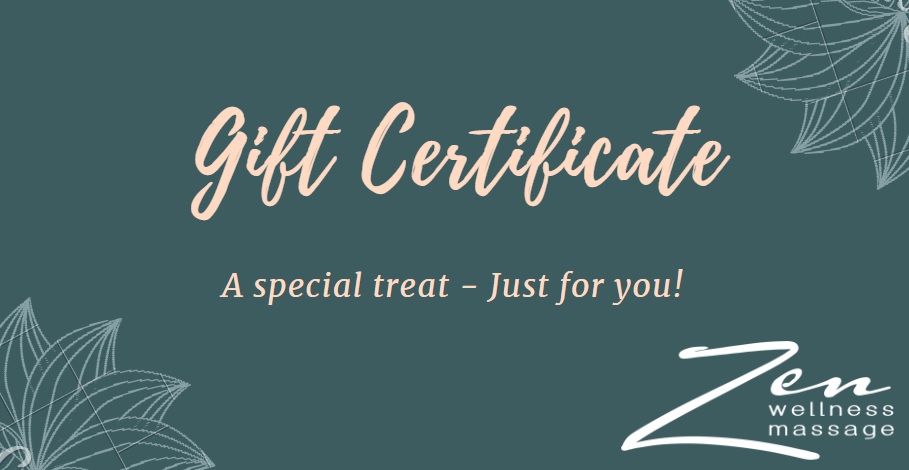 How often does your spouse, friend or family member intend to get a massage but always puts it off? Remove the excuses by buying them a gift voucher. Our vouchers are valid for six months, which is another way to coerce your loved one into doing something for them self soon!
We have four convenient ways of ordering your gift voucher:
Email us at admin@zenwellnessmassage.com.au . Please include your name, phone number and any gift voucher details you wish, and we will contact you back as soon as possible
Give us a call on 0748470456. We can easily arrange the massage gift vouchers
Head on over to our Clinic to check them out. You are always welcome to drop into reception to pick up your massage gift voucher.
However please note we do not have a receptionist, and as we are often all in treatment so we may not be able to assist you instantly.
If you intend to drop in, we recommend you call ahead on 0748470456 or Email us at admin@zenwellnessmassage.com.au to arrange a time to come in when we can ensure there is someone in reception to help you.
Our gift vouchers are valid for a 6-month period from the date of purchase, which is shown on the gift voucher; are non-refundable or redeemable for cash. Expired gift vouchers may not be honored.
* Please Note:
Most health funds will not pay a rebate on a treatment that is paid for completely with a gift voucher. This is because most health funds will not pay a rebate on any treatment which is not paid for by the client receiving the treatment (or in the case of minors, their parent or guardian) on the day the treatment is provided. Payment of rebates is beyond our control and is solely at the discretion of your health fund.
Please talk to us if you require further information. We do apologise for any inconvenience.
Business Information
Simply fill in the short form below and we will be in contact to answer your query/comment.